About FedEx Office
At FedEx Office, printing, packing and shipping are in our roots. But get to know us and you'll discover we provide so much more. Every day, our team members consult with customers to help them find just the right solutions to suit their needs — from personal projects to small-business marketing and large commercial print projects. From our headquarters in Plano, Texas, we support a network of 15,000 talented team members, serving approximately 1,900 locations across North America. And together we foster a culture where people deliver exceptional experiences and outstanding service for their customers, their teams and their communities. FedEx is also proud to be ranked among the top 20 in the FORTUNE Most Admired Companies List for our 18th consecutive year, with 14 of those years ranking among the top 10.
FedEx Office National Hiring Week
SAVE THE DATE – September 25-29, 2023
Join us for our National Hiring Week! We are inviting you to interview at one of our virtual hiring events the week of September 25-29. If you're curious about a career at FedEx Office, now is the time to meet the team and take the next big step!
Click here to register now for one of our virtual events the week of September 25-29!
FedEx Office Hiring Events
FedEx Office Culture
It's the people that make FedEx Office such a great place to work. It's a diverse group with different strengths that make up a stellar organization from our retail stores to our headquarters, and from Finance, Legal, HR, Field Operations and Sales. We've got a smart, world-class team with a great down-to-earth culture. Dedication, hard work and innovative ideas are truly valued. FedEx Office believes in giving back, by helping others and working together to make a positive impact in our community.
Awards and Recognition
Fortune's 100 Best Companies to Work For in America
Working Mother's 100 Best Companies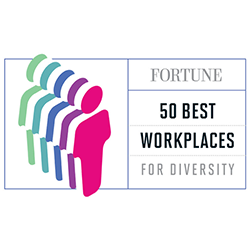 # 13 Among Fortune's 50 Best Companies for Diversity
#10 Among Fortune's World's Most Admired Companies
Black Enterprise's 40 best Companies for Diversity
America's Top Corporations for Women's Business Enterprises
Learn about our Benefits
Health
EDUCATIONAL ASSISTANCE PROGRAM
FedEx Office offers up to $10,000 in tax-free educational assistance to help you pay a portion of the cost for tuition or fees related to your professional and personal development. If you satisfy the requirements of the program, you will be reimbursed: Undergraduate Courses: Up to $750 per academic term ($1,500 maximum per plan year) ; Graduate Courses: Up to $1,250 per academic term ($2,500 maximum per plan year)

SCHOLARSHIP PROGRAMS
Scholarship programs are offered to assist and encourage the education of team members as well as qualified children, legally dependent stepchildren, and wards of our team members.
Career Development Opportunities
LP.SKU-6.CAROUSEL-3.PARAGRAPH
Financial
401(k) RETIREMENT SAVINGS PLAN
FedEx Office provides you with a convenient way of accumulating additional savings for your retirement while saving on your taxes today. You can contribute up to 50% of your pay starting on the first of the month following one month of employment (subject to annual 401k IRS contribution limits). After one year of service, team members' pre-tax contributions are matched dollar-for-dollar up to the first 8% of eligible compensation.
DISCOUNT PURCHASES
FedEx Office team members and their family members may utilize discounts on FedEx Office® products and services and reduced rate shipping. In addition, FedEx Office offers several discount programs, including various retail discounts, legal and banking services, auto and home insurance discounts, pet insurance, auto purchase discounts, computer products, day care services, real estate, and much more.
Work-Life
PAID TIME OFF
Full-time FedEx Office team members are provided with: Paid sick time, Vacation time, Six paid company-designated holidays, Two paid floating holidays, Bereavement time
FedEx Cares
For years, FedEx Cares has been giving through volunteer and monetary investments for our local communities. But we began to ask ourselves, "How can we take what we're good at and apply it to solving some of the world's problems in a thoughtful way? "FedEx is investing $200 million in over 200 global communities by 2020 to create opportunities and deliver solutions for people around the world.
Inclusion & Diversity
At FedEx Office, our people-first philosophy is an everyday practice of connecting people to possibilities. We embrace our differences, value unique skills, and treat everyone with respect. We recruit candidates through a variety of sources, and from a variety of backgrounds to help us build a diverse workforce reflecting the communities we serve. We then cultivate an inclusive atmosphere where every team member feels they belong, can contribute and thrive. This helps us to deliver a better future for team members, customers and communities.
FedEx Office Talent Network
FedEx Office is an equal opportunity employer and prohibits discrimination and harassment against any employee or applicant on the basis of race, color, religion, national origin, citizenship, genetic information, age (except for bona fide occupational qualifications), sex, pregnancy (including childbirth or a related medical condition), disability, sexual orientation, gender identity, gender expression, marital status, military leave or service, status as a disabled veteran or other covered veteran status, participation in EEO protected activity, any other status protected by federal, state, or local law, or association with a person on the basis of one or more of the foregoing.
For more information, click here.